Latest Features/Blogs
AIA PRESS CENTER
AIA Champions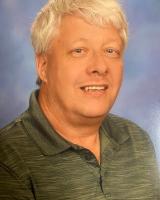 Scott Gilpin
Sunnyslope High School
Unified Sports - Coach of the Year
Scott Gilpin is a science teacher at Sunnyslope High School and began the Unified Sports program over two years ago. His passion and leadership have helped guide his teams to great success, including Sunnyslope's Unified Badminton team placing second at the 2019 AIA Unified Badminton State Championship. Under Scott's tutelage, Sunnyslope's Unified program won Glendale Union High School District Group of the Year award for the 2018-19 school year and also received National Banner Recognition as a Unified Champion School by ESPN and Special Olympics in 2019. Scott ensures that his teams are recognized at the sports assemblies among their peers and also hosts Spread the Word: Inclusion Campaigns each March on campus to promote social inclusion for people with intellectual and developmental disabilities.
Scott has transformed the lives of athletes, partners, and colleagues at Sunnyslope High School. His dedication and commitment to meaningful inclusion bridge the gap for understanding and inclusion for all in the community. He holds high expectations for all involved to reach their maximum potential and display the upmost sportsmanship. As one of his colleagues said, "It takes a village to raise a child; it took Mr. Gilpin to show the village that these students matter!"
AIA TODAY
2022-2024 Reclassification
The initial conference placements are now posted (these will be used for all sports excluding football). Schools may appeal their initial conference placement by Tuesday, Oct. 19 at 2 p.m. using the Conference Placement Appeal Form.
Timeline for the 2022-2024 Conference/Region Reclassification
Events for the week of October 11, 2021
Tuesday, October 12, 2021
1A-3A Conf. Placements (Brd Rm) - 8:00 am - 12:00 pm
AIA Wrest Ofcls Mtg - 6:30 pm - 8:30 pm
Wednesday, October 13, 2021
FB Reclassification Mtg (Brd Rm) - 10:00 am - 12:00 pm
Saturday, October 16, 2021
1A AD Meeting (Sm Conference Rm) - 10:00 am - 12:00 pm
AIA QUICK LINKS