Latest Features/Blogs
AIA PRESS CENTER
AIA Champions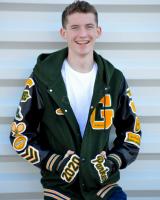 Parker Fowler
Greenway High School
Student of the Year Recipient
It's no surprise that student body president "Parker Fowler" from Greenway High School was chosen as Student of the Year. He is ranked number 4 in his class, with an outstanding 4.0 GPA all throughout high school. On top of being a stellar academic student, Parker is a three sport varsity athlete: cross country, tennis, and track.
Parker has over two dozen awards and recognitions under his belt. He is a two-time first team all section runner for cross country, qualified for State three years in a row, and was named Greenway's top runner his junior and senior year. In addition, he qualified for State in two track events & was named Greenway's Top Point Getter.
Parker excels in many activities on campus. In addition to student body president, he is a Link Crew leader, manager of the varsity girls' basketball team, yearbook editor, Greenway Dance Company member and president, Literacy Club member, and National Honor Society Member. Parker helped create the anti-bullying campaign at his school, emceed all Greenway assemblies, while holding a part time job in his community.
This amazing student was named Greenway's Rotary Student of the Month for September, Greenway's Athlete of the Month for October, and Greenway's Achievement Above All (student of the year) recipient. Parker oozes green and gold spirit and pride. If given a microphone, Parker will jump at the chance to energize a crowd, and he hopes to put this skill to use in his future profession as a politician. Since politics is a love, Parker has created a voter registration drive for the school, participated in the Red for Ed movement, and canvassed for Glendale Union High School District's bond/override campaigns.
Greenway High School has always felt like a second home for Parker & will take all this knowledge and experiences with him to his next chapter.
Parker will be attending ASU Barrett College and plans to student law and public policy.