Latest Features/Blogs
AIA PRESS CENTER
AIA Champions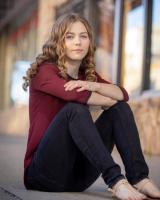 Mycala Stapleton
Miami High School
1A-3A Scholar Athlete Recipient
Mycala Stapleton is the most accomplished student at Miami High School & being chosen as the AIA Scholar Athlete is very fitting. Mycala is a six sport Varsity athlete, who participated in cross country, wresting, tennis, volleyball, soccer and softball. She has had the honor of serving as the Cross Country team captain & has truly impacted her teammates with her leadership and integrity. Its no wonder she was named "Most Valuable Player" twice during her high school Wrestling career.
Mycala has qualified for the AIA state tournament in every sport she participated in Wrestling, Cross Country, and Tennis. She was also featured as the "Copper Country Athlete of the Month" for academic excellence multiple times.
On top of athletics, Mycala was inducted into the National Honors Society & became president her senior year, is the Student Council Treasurer, Junior state of America President and a member of the Girls State for American Legion Auxiliary.
This gifted and hard working student has outdone herself and has earned a Gold category at culinary state for knife skills. Keeping herself busy with athletic and activities, Mycala still managed to keep a weighted GPA of 4.1 and over 50+ volunteer hours. Many of those hours she earned working at the Cobre Valley Hospital in Globe,AZ. She has been a volunteer coach for younger wrestlers, conveying her love for the sport and the importance of good sportsmanship. Mycala's greatest strength is that she is not afraid to fail and she is a "tough" person. She always gives her best and perseveres through any adverse situation. Mycala is truly a once in a blue moon student athlete.
Mycala will attend Arizona State University in the fall to study Biomedical Informatics.
AIA TODAY
2022-2024 Reclassification
Timeline for the 2022-2024 Conference/Region Reclassification
Events for the week of September 20, 2021
Monday, September 20, 2021
AIA Wrestling Ofcls Brd Meeting (Brd Rm) - 6:00 pm - 7:30 pm
Thursday, September 23, 2021
Executive Board Meeting - 8:30 am - 1:30 pm
AIA QUICK LINKS