Latest Features/Blogs
AIA PRESS CENTER
AIA Champions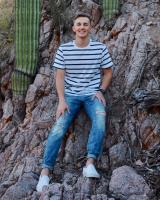 Carson Mott
Cienega High School
4A-6A Scholar Athlete Recipient
Carson Mott from Cienega High School comes from generations of athletes in his blood. All throughout high school he was a multi sport athlete participating in football, basketball and boys volleyball. Despite his athletic talent and grit he is a humble, does not seek the spotlight for himself. Around Cienega he is known as Mr. Touchdown because he was always catching passes and scoring. He has that presence on the court that's hard to describe, but you know it when you see it. Carson has earned All Southern Arizona First Team in basketball & volleyball and "Freshman Player of the Year". He has also participated with the Arizona High Performance Volleyball National Team for 2 years.
While his athleticism is impressive, his character and work ethic are really what makes Carson shine. He has maintained an impeccable 4.0 GPA and is a dual credit student at Pima Community College. Carson been on the High Honor Roll list throughout all 4 years and donates a lot of his time through church activities and youth volleyball. He has served as a referee for the National Youth Sports Organization, a mentor at the YCMA and has over 100+ community service hours.
Carson has been challenged by his coaches to maintain strong values and plans to continue to honor them in his college athletic career.
Carson plans to attend Concordia University Irvine & study dentistry/oral surgery.
AIA TODAY
2022-2024 Reclassification
Timeline for the 2022-2024 Conference/Region Reclassification
Events for the week of June 21, 2021
Wednesday, June 23, 2021
Board Orientation - 10:00 am - 2:00 pm
Friday, June 25, 2021
AIA Office Closed
AIA QUICK LINKS