Latest Features/Blogs
AIA PRESS CENTER
AIA Champions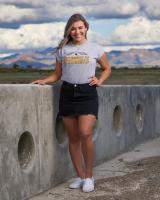 Ashlyn Armijo
Mohave High School
1A-6A Scholar Activity Recipient
Senior Class President, Ashlyn Armijo, from Mohave High School is the most spirited and well rounded student in her community. She was able to juggle both Varsity Soccer and Spiritline (Cheer, Pom and Dance), student council & taught at one of the local dance studios in her community. Ashlyn has excelled academically in the most challenging courses which has provided a solid educational foundation to help her succeed. She has maintained a 3.89 GPA and was accepted into the National Honors Society her sophomore year. If she wasn't more amazing, Ashlyn also attended the dual credit program at Mohave Community College to get ahead.
Ashlyn's long list of achievements to date at Mohave and beyond has set her apart from her peers including volunteering over 500 hours at the Elks Club, Vista Colorado Elementary School, Tournament of Champions, Ronald McDonalds House plus more! Also since freshman year, she has been evolved all four years in Key Club, Interact Club and Ambassadors Club.
Her interpersonal skills and leadership qualities have enabled her to be a very positive role model for others. She has sounds moral values and her peers respect her opinions and look to her for guidance & advice. Ashlyn has learned many life lessons that will enable her to continue to become an even greater success.
Ashlyn was accepted to University of Wyoming and the Cowboy Cheerleading team. She plans to student environmental science or nursing.
AIA TODAY
2022-2024 Reclassification
School Conference Appeals and Results.
The region placements are now posted following conference appeals (reminder, these exclude football). Regions are still being finalized for 3A Winter soccer and will be posted as soon as they are available.

Division placements are also available for individual sports. Section placements for cross country, wrestling and tennis will be posted as soon as they are available.
Timeline for the 2022-2024 Conference/Region Reclassification
Events for the week of December 6, 2021
Monday, December 6, 2021
Executive Board Meeting - 8:30 am - 3:00 pm
AIA Softball Ofcls Brd Mtg - 6:00 pm - 8:00 pm
Wednesday, December 8, 2021
4A-6A WR Scheduling (AIA Brd Rm) - 8:00 am - 12:00 pm
SLAC - 10:00 am - 1:00 pm
Thursday, December 9, 2021
4A-6A TF Scheduling (AIA Brd Rm) - 8:00 am - 12:00 pm
Sunday, December 12, 2021
AzFCA Mtg (AIA Brd Rm) - 10:00 am - 12:00 pm
AIA QUICK LINKS