Latest Features/Blogs
AIA PRESS CENTER
AIA Champions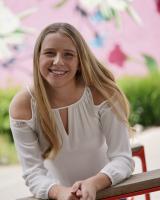 Julia Golichowski
Student Leadership Recipient
Julia is an outstanding student from Arizona College Prep, who excels in both academics and athletics. Julia has been on the Varsity Indoor and Beach Volleyball Teams for four years and has earned multiple accolades, including MaxPreps Player of the Week for Arizona, Region Player of the Year, and more. Julia also participates in many clubs: National Honor Society, Key Club, Red Cross, She's the First, and Fellowship of Christian Athletes. She also enjoys regularly volunteering at school events, such as a middle school volleyball clinic held by her coach, as well as participating in outside volunteering opportunities, like Feed My Starving Children and Relay For Life.
In addition to athletics and community service, Julia has earned a 3.97/4.0 GPA and challenges herself by taking solely honors and AP classes when available. She was a member of the AIA Student Leadership Advisory Committee, SLAC serving as the co-chair at meetings and helped to develop the first AIA Student Leadership Summit in 2019. The knowledge, experience, and leadership skills that Julia has gained from high school will serve her well in Florida, where she will be attending Palm Beach Atlantic University on both an academic and athletic scholarship. She is looking forward to both demonstrating her leadership skills as well as further expanding her horizons in college.
AIA TODAY
2022-2024 Reclassification
School Conference Appeals and Results.
The region placements are now posted following conference appeals (reminder, these exclude football). Regions are still being finalized for 3A Winter soccer and will be posted as soon as they are available.

Division placements are also available for individual sports. Section placements for cross country, wrestling and tennis will be posted as soon as they are available.
Timeline for the 2022-2024 Conference/Region Reclassification
Events for the week of November 29, 2021
Tuesday, November 30, 2021
St FB Semi Finalist AD Mtg - 10:00 am - 12:00 pm
Wednesday, December 1, 2021
4A-6A XC Scheduling (AIA Brd RM ) - 8:00 am - 12:00 pm
Focus Group Mtg (AIA Brd Rm) - 10:00 am - 2:00 pm
VB SAC (Zoom) - 10:00 am - 12:00 pm
Thursday, December 2, 2021
4A-6A Golf Scheduling (AIA Brd Rm) - 8:00 am - 12:00 pm
3A FB ST Mtg ( Board Rm) - 10:00 am - 12:00 pm
Focus Group Mtg (AIA Brd Rm) - 3:00 pm - 6:00 pm
AIA QUICK LINKS