Latest Features/Blogs
AIA PRESS CENTER
AIA Champions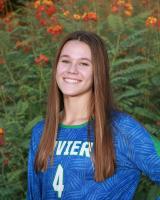 Abby Converse
Xavier College Preparatory
Student Leadership Recipient
Over the past four years, Abby has impacted fellow students, teammates, and community members as a leader at Xavier College Preparatory. Abby has excelled within the classroom, becoming a National Merit Finalist and AP Scholar with Distinction, completing the rigorous Great Books Program, and maintaining a 4.0 unweighted GPA. As a captain of both the indoor and beach volleyball teams, she led her teams to three state championships. Additionally, she was named to the Premier Region Girls Volleyball 2nd Team. Starting her sophomore year, she became a member of the AIA Student Leadership Advisory Committee and aided in the establishment of the AIA Student Leadership Summit. Further, Abby represented athletes across the state at the 2018 NFHS National Student Leadership Summit. During her summers, Abby has connected with and empowered girls to pursue STEM as a counselor and director at Xavier's Girls Have IT Camp. Outside of academics and athletics, Abby has a passion for civic engagement. She was the Secretary of State of the 2019 Youth and Government Model Legislature Conference and represented Arizona, again, as a National Youth Advocate of the YMCA, speaking with congressmen and women about funding for YMCA programs that support children throughout the nation.
In everything she participates in, Abby finds ways to lead and learn from her peers. She is genuinely curious about the world around her and seeks to widen her viewpoint through each person she meets. Using this knowledge, Abby dedicates her time to uplifting others as an athlete, advocate, and student by employing kindness and challenging others to do the same.
Abby will be playing Division 1 Beach Volleyball at Stanford University and hopes to study Biology in the Microbes and Immunity Field of Study.
AIA TODAY
2021 11-man Football Alignments
The results of the conference appeals can be found here: 2021 Football Appeals
A school may appeal the conference decision to the AIA Executive Board by 2 p.m. on March 4, 2021. The AIA Executive Board will hear any appeals and make the final determination on March 15, 2021 during the AIA Executive Board meeting.
See the following for the current 2021 11-man Football Alignments
Events for the week of March 1, 2021
Wednesday, March 3, 2021
1 A Conference Meeting (Brd Room) - 10:00 am - 12:00 pm
Friday, March 5, 2021
Legislative Council Meeting-Xavier College Prep - 9:00 am - 12:00 pm
AIA QUICK LINKS