Latest Features/Blogs
AIA PRESS CENTER
AIA Champions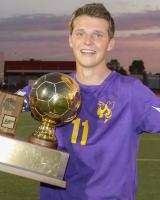 Kadan Brimhall
Blue Ridge HIgh School
1A-3A Scholar Athlete Recipient
Kadan's strongest attribute is his integrity. He is a successful scholar-athlete who is physically, intellectually, and emotionally committed to high levels of achievement in all of his endeavors. His superior academic record is among the elite. He has maintained a 4.0 GPA at Blue Ridge High School while taking the most rigorous honors and AP classes offered at BRHS. He is a member of the National Honor Society and has been named Co-Valediction of the graduating class of 2020.
A competitive athlete, as well as a motivational leader, Kadan has earned a Varsity letter in each sport and has been appointed as the captain of each team. During his senior year, Kadan's efforts helped his team earn the 3A State Championship in soccer.
Kadan is very active in his community. He actively serves those around him and has completed over 700 hours of community service during his high school career. He has achieved the honor of Eagle Scout, during which he developed and led a project to remodel and gather new equipment for the BRHS training room. Kadan is the co-founder and Student Liaison for White Mountain Youth Foundation. Kadan's biggest achievement is founding and being Youth Director of Project Elevate, a non-profit organization focusing on leadership and performance.
Kadan's future plans involve going to a university to study pre-med and would like to become a physician.
AIA TODAY
2022-2024 Reclassification
The initial conference placements are now posted (these will be used for all sports excluding football). Schools may appeal their initial conference placement by Tuesday, Oct. 19 at 2 p.m. using the Conference Placement Appeal Form.
Timeline for the 2022-2024 Conference/Region Reclassification
Events for the week of October 11, 2021
Tuesday, October 12, 2021
1A-3A Conf. Placements (Brd Rm) - 8:00 am - 12:00 pm
AIA Wrest Ofcls Mtg - 6:30 pm - 8:30 pm
Wednesday, October 13, 2021
FB Reclassification Mtg (Brd Rm) - 10:00 am - 12:00 pm
Saturday, October 16, 2021
1A AD Meeting (Sm Conference Rm) - 10:00 am - 12:00 pm
AIA QUICK LINKS